SATURDAY: "ZOMBIE PROM" MATINEE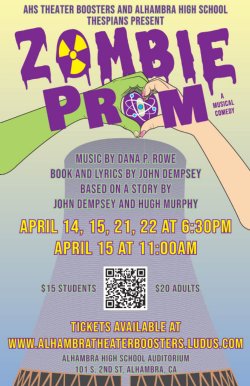 What

SATURDAY: "ZOMBIE PROM" MATINEE

When

4/15/2023, 11:00 AM

–

1:00 PM

Where

AUDITORIUM
"It's Alive!" Alhambra High School brings musical theater back from the dead with Zombie Prom. The 1950's rock comedy plays for five performances on Fridays and Saturdays in April.

"Zombie Prom" performances are Friday, April 14 and 21, at 6:30pm; Saturday, April 15 and 22, at 6:30pm; with a Saturday matinee on April 15, at 11:00am. Location is the Alhambra High School Auditorium at 101 S. 2nd Street (between Main and Commonwealth).

The 1996 musical, based on a short story by John Dempsey, is a camp comedy spoof of classic B horror movies and 1950s nostalgia. At Enrico Fermi High, good-girl Toffee has fallen for the class bad-boy-with-a-heart-of-gold, Jonny. Toffee's disapproving family forces her to end the romance, and a brokenhearted Jonny drives his motorcycle into the town's nuclear silo. Resurrected by Toffee's love, Jonny returns from the dead as a nuclear green zombie, determined to graduate high school and take his girl to Senior Prom. But Miss Strict, the tyrannical principal with a dark secret, refuses to allow this. With the help of his friends and local scandal reporter, Eddie Flagrante, Jonny embarks on a campaign for zombie rights.

The show stars David Ortiz as Jonny, Jeylin Geurrero as Toffee, Yumi Minton as Miss Delilah Strict, and Eddie Gonzalez as Eddie Flagrante. Featured are Hannah Cichy (Ginger), Leonardo De Dios (Jake), Iliana Encinares (Candy), Jacob Gordon (Joey), Moses Lopez (Josh), and Angela Sanchez (Coco). Also performing are Benjamin Alo, Chloe Avila, Miles Brown, Kaylee Craft, Annika Del Mundo, Sujey Flores Marquez, Alondra Fuentes, Randi Hall, Yvette Hernandez, Ciara Kelly, Jadin Kennedy, Gray Lina, Nicole Mulero, Alexis Ramirez, Johnny Sandoval, and Janice Urive.

Crew members include Leslie Mojia (Stage Manager), Natalia Sanchez (Assistant Stage Manager, Carpentry), Fatima Guajardo Glover (Assistant Stage Manager), Ash Bennet and Angel Gamboa (Lighting Design), Cleo Flores and Ynah Sampilo (Sound), Jonathan Guerrero (Lead Carpentry), Kailtyn Angulo, Mia Lai, Jada Leung, and Romina Robles (Wardrobe/Makeup), Jessica Campos and Maria Gonzalez (Props and Paint), Emily Birrueta, Jayvyn Castro De Barrow, Maya Church, Samantha Gutierrez, Xander Guzman Brandon He, Mandy Phu, and Abigail Velazquez (Stage Crew). Additional set design by Brian Cole, Mia Lai, Jada Leung, and Leslie Mojica.

The show is produced as a joint effort by Alhambra High School Thespian Society and AHS Theater Boosters. It is directed by AHS Theater Arts teacher Rachel Snow, with choreography by Jessica Beron, musical direction by Sam Chen, technical direction by Brian Cole, and assistant direction by Natalie Villareal.

Tickets are available online at alhambratheaterboosters.ludus.com - $15 for students and $20 for adults. Tickets will also be available at the door. To volunteer or donate to the AHS Theater program and Thespians, please email [email protected].

Copy to Google Calendar
•
Download iCal Event